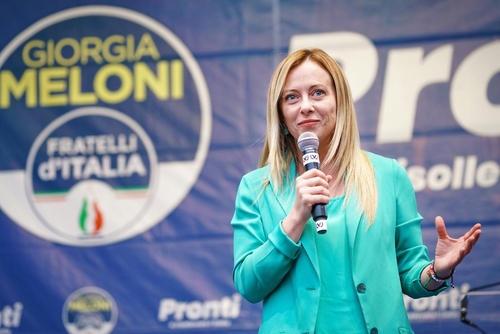 On Friday October 21st, ECR President and leader of Fratelli d'Italia Giorgia Meloni was appointed Italy's Prime Minister by President Mattarella, and the very next morning she and her Cabinet were sworn in. The remarkable speed at which the newly appointed Prime Minister has been moving forward is a reflection of the current challenges the country faces, in addition to being a further indication of the unusual determination shown by Giorgia Meloni, who has presided over the European Conservatives and Reformists since 2020.
Indeed, Italy faces a unique three-pronged crisis that has been fueled over the last decade by weak policies of the Cabinet members in office in that not-so-short period. Accordingly, the economic crisis goes well beyond the pandemic or the impact of energy prices on the economy. Italy's average per capita income in 2021 was slightly less than in 2011 at constant prices. What is even more remarkable is that in 2011 that value was higher than the EU average, while in 2021 it fell below the EU's. As a result, the gap with Europe has widened, attested by a battery of macroeconomic, fiscal, and even socio-economic proxies.
This long-time stagnation has been amplified by the pandemic and, most recently, the energy crisis. While the latter has escalated following the Russian aggression in Ukraine, the energy crisis has only highlighted what a misguided energy policy can accomplish. Indeed, the country's economy includes a number of energy-intensive sectors, yet Italy's energy needs have been met through imports from abroad, mostly gas from Russia. It is also remarkable that, since energy prices escalated, well before February 24th, there has been little effort to pursue a more diversified structural, not merely geographic, mix of energy sources.
Last but not least, the demographic crisis is felt inexorably over time. In 2021, the number of newborns set another negative record since the country became united in 1861. This certainly reflects a lower consideration for family households and little support for the multiple roles that women fulfill in a modern society.
The end result is that the three crises interact with each other, gain strength, and generate a wider impact. It will be up to the new Cabinet to manage the legacy of this three-pronged crisis. In my view, Prime Minister Giorgia Meloni will need to consider two principles as a basis for assessing new economic policies. First, every single measure will need to be growth-enhancing: indeed, spurring growth is the only means to make public debt sustainable in the longer-term amidst the forces described above. That does not imply encouraging fiscal profligacy at all. Indeed, several economic measures can be envisaged from start within the perimeter of fiscal responsibility. Second, the Cabinet cannot just address the current crisis with emergency measures alone, despite growing pressure to do so. The Prime Minister should ensure that each measure entail a structural, not just an emergency, response to current challenges.
That will be the most effective way to leave a great legacy to Italy and Europe.