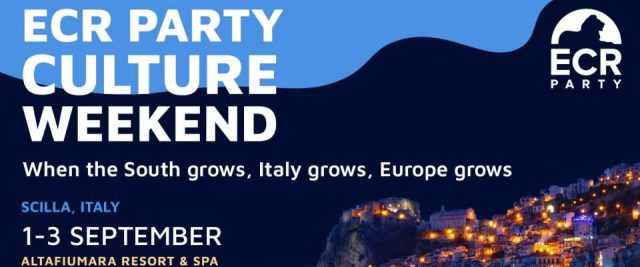 The upcoming ECR Party Culture Weekend event in Scilla, Italy, is set to be a significant gathering of political leaders and enthusiasts aimed at promoting culture, dialogue, and collaboration within the European Conservatives and Reformists Party. Taking place from September 1st to September 3rd, 2023, the event promises to be an engaging platform for discussions and debates on topics of critical importance to Europe and its global partners.
The ECR Party, known for its commitment to conservative values and principles, has long been at the forefront of advocating for effective policy-making and innovative solutions. With a focus on fostering dialogue and cooperation among like-minded individuals and organisations, the ECR Party Culture Weekend serves as a testament to their dedication to creating a platform for exchange and collaboration.
The ECR Party Culture Weekend will delve into a range of pressing issues and explore various aspects of culture, politics, and society. The event aims to provide a platform for intellectual discourse, allowing participants to share their perspectives and insights on topics that define the future of Europe and its global partnerships.
Set against the picturesque backdrop of the Calabrian coastline, Scilla is a charming town known for its rich history and breathtaking beauty. Located in southern Italy, this coastal gem offers participants a delightful setting to engage in lively discussions and forge meaningful connections. Scilla's enchanting old town, with its narrow streets and traditional architecture, creates an ambiance that fosters intellectual exchange and cultural appreciation.
The ECR Party Culture Weekend boasts an impressive lineup of speakers, each bringing their expertise and unique insights to the discussion. These speakers include among many others:
Jorge Buxade MEP ECR Party Vice President, Head of VOX delegation EP, Spain, an experienced and highly respected legislator, with a focus on promoting economic growth and job creation through deregulation, lower taxes, and free trade. He is an advocate for preserving traditional values and protecting public safety while also guarding against overregulation of Europe's businesses.
Antonio Giordano, MP, Secretary General ECR Party, Italy. He has served as MP for Salerno-Campania since 2019, and was elected Secretary General of ECR earlier this year career has been marked by a commitment to furthering conservative ideologies and promoting reform
Chiara Gemma , MEP, Italy is a cross-party, independent Member of the European Parliament. She serves on the Committee on International Trade, where she focuses her work on trade and economic development policies. Her policy agenda includes focusing on agricultural reform in Africa to improve food security and reduce poverty; working to ensure that regional agreements are fair and equitable for developing countries; defending Europe's right to establish its own trade rules; and promoting development, environmental sustainability, and human rights in international agreements. Chiara is also an advocate for gender equality and the empowerment of women worldwide. She has worked on legislation to protect victims of human trafficking, ensure equal pay for men and women, strengthen parental leave policies across Europe, and promote greater access to education in developing countries.
The event will also feature renowned experts from various fields, including political science, economics, and cultural studies. These experts will contribute their knowledge and perspectives, adding depth to the discussions and enriching the overall experience. Attendees will have the opportunity to learn from these experts and engage in meaningful dialogue. Additionally, te event will foster an environment of collaboration, where attendees can share their own thoughts and contributions. By connecting people with different backgrounds and perspectives, the event will become a space for collaborative problem solving and creative thinking.
The ECR Party Culture Weekend in Scilla presents an invaluable opportunity for participants to engage in stimulating debates, broaden their understanding of critical issues, and build networks with like-minded individuals. With its focus on fostering dialogue, preserving cultural heritage, and shaping the future of Europe, this event promises to be an intellectually stimulating and enriching experience. Participants can look forward to insightful discussions, engaging presentations, and the chance to contribute to the development of innovative solutions and strategies that will shape the future of the continent and our global community.