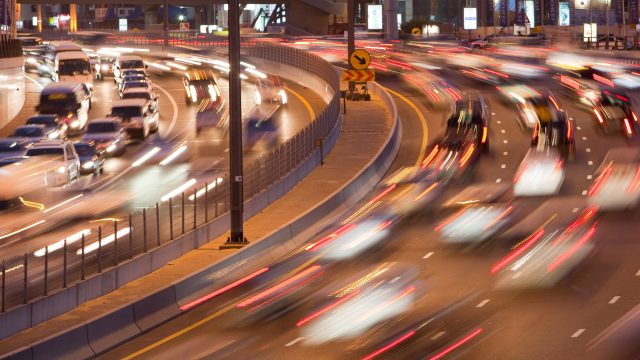 The Swedish Presidency has decided to postpone a vote to permanently ban cars powered by petrol or diesel in the Union from 2035. It opens up opportunities to make a more realistic assessment of the car market and taking into account the households' financial conditions.
It was the EU commission who suggested a ban on all new cars with combustion engine from 2035, according to an agreement with the EU Parliament.
But a number of member states such as Italy, Germany, Poland and Bulgaria are increasingly skeptical about making such a decision. These four countries represent about 42 percent of the EU's population — easily over the 35 percent threshold needed to block legislation.
Italy: Can cost hundreds of thousands of jobs
Italy's Prime Minister Giorgia Meloni (Fratelli d'Italia / ECR) has pledged to "forcefully" oppose the car ban plans, arguing they're "deeply damaging to our manufacturing sector." Former Commission President Romano Prodi (formally Democratic party/S&D) has agreed with her and have emphasized the broad political support in Italy for a rethink.
At the same time Italy's Transport Minister Matteo Salvini (Lega Nord/ID) has made the ban of new combustion engine cars from 2035 a key part of his own political agenda. He argues the law would hand the European car market to electric vehicle leader China and cost "hundreds of thousands of jobs."
Also voices within the center-left German government are dissatisfied. Germany's Transport Minister Volker Wissing (Free Democrats party/RE) have warned that Berlin would withhold its support unless the European Commission put forward a plan to carve out a role for e-fuels after 2035.
His party are demands that the EU Commission allow exception to cars powered by e-fuels — synthetic fuels made from renewable energy and captured CO2 that have the same properties as fossil fuels. He gets support from other actors who believe such fuels are green and would allow carmakers to continue producing conventional combustion engine vehicles rather than switching to batteries. This kind of policy decisions are important for car building countries like Germany and Italy.
– We need all alternatives, electric, hydrogen and internal combustion engines that run on synthetic fuels, says the German Transport Minister to Euractiv.
The Commission didn't deliver on promise
It is not common that formal approvals of agreements between member states and the EU Parliament are postponed. "Usually, it's paper pushing at this stage, but this has become something else," said a Council official to Politico.
This raised eye browses in Brussels has angered the German liberals.
"We request a legal regulation from the European Commission, the European Commission promises it to us, then doesn't do it, and is completely surprised that we don't simply acquiesce," Volker Wissing said in a comment.
Only a political game or serious objections?
There are divided opinions within the German government, where the liberals are pushing for the survival of the car industry, while the two red-green parties are willing to set tough demands on the car industry. From Brussels they see it as a ploy and that the liberal party, FDP, wants to extract a public commitment to e-fuels from the Commission that would allow them to claim a domestic policy win in Germany.
But the threat to the harsh car legislation has created "a fear that countries like Poland start using the same tactics. That the current German behavior legitimates attacks on other climate files," said a diplomat from a climate-ambitious EU country.
Whatever is behind the actions of the critical countries, the effort to end the sale of new fossil-powered cars by 2035 has sparked a conflict over the way to make Europe cleaner.
Some regards the agreed proposal to forbid combustion driven cars as "historic" and as a big "success" for the environment movement. Some wanted an even more radical plan to remove all cars with combustion engines.
– I would have liked to see a stop date ten years earlier than what has now been agreed, the Swedish EU parliamentarian Jacop Dalunde (Greens/EFA) stated before the postponement was known.
He also meant that the agreed cut-off date for cars with combustion engines was an absolutely necessary decision, if a fossil-free vehicle fleet is to be achieved. It is required if a sharp reduction in emissions is to be possible. For that reason, he believe Europe could manage an earlier stop date and that the car industry is ready for a transition much earlier than 2035.
A sharp tightening would have a greater significance for the transition to pure electric cars in the near term than the more distant 2035 goal, he argues.
Others aren't as radical, but are concern after the news that the EU ban on fossil-fuel cars may be slowed down.
– It is extremely unfortunate, because we now have to get clear rules to be able to change the transport sector. It is clear that car manufacturers are investing in electrification, but it creates uncertainty for the car industry when politics is jerky, says Svante Axelsson from a Swedish environment organization to the newspaper Dagens Nyheter.
He does not think it is so radical to demand a total stop of all production of cars with combustion engines in 2035. The EU proposal would be a reinforcement of a development that everyone has already chosen, he says. But that's easy to say for someone who doesn't need to consider household finances when faced with the fact that all new cars – with only electric cars to choose from – have become significantly more expensive to buy.
Europe has had enough of radical "green" politics
But in the Swedish parliamentary election last autumn, right-wing and national parties won the victory over green and red parties with demands for lowered ambitions for mixing biofuel in diesel and petrol. Ordinary households cannot afford more expensive cars and transport. Environmental policy must be conducted so that households do not suffer heavy financial burdens.
Politics must not get ahead of technological development and apply experiments that could go badly wrong.
The idea that all new cars must be electric by 2035 is as utopian as when Germany decided to phase out all nuclear power in a few years. Europe must not repeat the mistake that Germany and Sweden made when they decided to phase out nuclear power from the electric grid – before other predictable and stable electricity supply was in place.
Time to return to realism
All of Europe is now suffering from high electricity prices because politicians have implemented radical "green" policies without considering the consequences for citizens and households. The ability to switch away from Russian gas would have been significantly less painful if tens of nuclear power reactors had not been decommissioned prematurely. With those nuclear powerplants in service today, we would also have avoided increasing the burning of oil and lignite in Europe. The end result of radical "green" policies turned out to be the opposite – more pollution and less climate friendly environment.
Our governments have to acted calmly and methodically, instead of promoting quick but unrealistic policies.
The European Union's various institutions need to learn the lesson of nuclear decommissioning. We cannot rush off in a direction that is unpredictable just because politics sets theoretical "goals" that are admirable but lack realism and risk making the outcome even worse.
The same mistake must not be made again with cars powered by internal combustion engines. The goal of reduced emissions from traffic is important, but politics must not run ahead of technology. Radical political demands sound powerful, but are often painfully counterproductive.