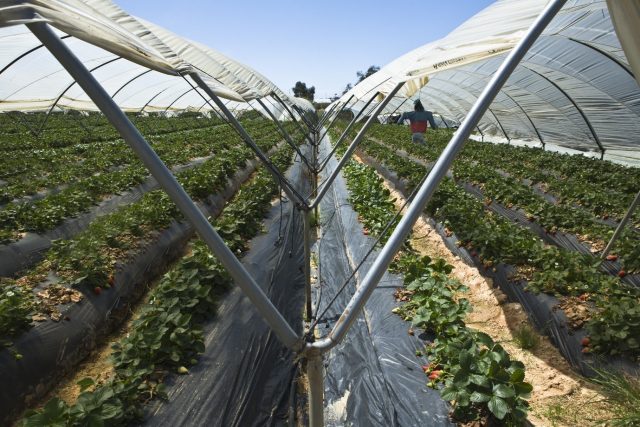 Spain's agricultural sector is embroiled in an ongoing war against Germany, the so-called "strawberry war". Germany, the self-appointed policeman of Europe, has declared war on the Spanish strawberry sector based in the Andalusian province of Huelva. Huelva produces strawberry exports worth around 580 million euros, with Germany being the main export destination. However, Germany's eco-crusade comes as no surprise. What is shocking in this whole affair is the fact that the loudest voice in this crusade against Spain's strawberry producers has been Spain's own government, comprised of populists, socialists and communists.
The background is the intense electoral year that Spain is undergoing, where local, regional and general elections are being held in 2023. In the context of Spain's severe and unprecedented droughts which have hit the primary sector hard, the government of Andalucía introduced a law in April to regularise the 'illegal' irrigation of around 1,000 hectares of crops using groundwater from the protected wetland of Doñana National Park. However, although welcomed by struggling producers, the move was slammed by environmentalists, as well as national and European politicians.
Apart from environmentalists with their usual short-sightedness and disregard for the concerns of the primary sector, the European Commission has expressed willingness to take Spain to court for failing to respect a 2021 CJEU ruling on the protection of Doñana, claiming that Spain fails to uphold the water protection and natural habitats Directives. But what is most perverse is that the Spanish Government has sided with this camp rather than its own agricultural producers. Prime Minister Sánchez has issued demagogic statements like "Denialism ruins our environment and runs the risk of ruining local economies. Let's save Doñana", while the Deputy Prime Minister and Minister for Ecological Transition, Teresa Ribera, has stated that "Juanma Moreno [President of Andalucía] must immediately withdraw the irrigation law that threatens Doñana". These accusations have also been echoed by Sanchez's henchmen in the S&D party group in the European Parliament.
What the Government has done is to hang agricultural producers in Andalucía out to dry, quite literally, as a means to open up a front against the successful centre-right regional President who, since winning in 2018, has overturned Andalucía's fate of permanent decline after decades of uninterrupted socialist governments. Little has the Government offered to address the legitimate concerns of agricultural producers in the Huelva province. This province produces 98% of Spanish strawberries and 30% of the EU's, being the largest producing region in Europe, and the sector directly employs over 100,000 workers.
It is in this context that the "strawberry war" is developing. The German consumer association 'Campact' (which has ties to the governing SPD party) launched a petition in May urging the main German supermarkets to boycott what they pejoratively dub "drought strawberries" from Huelva. The petition, which has thus far been signed by over 160,000 Germans, accuses producers of carrying out an environmentally dangerous and "illegal water theft". Furthermore, the German campaign has astonishingly and unacceptably interfered with Spanish party politics by asserting that the "theft of water will be officially allowed" with the foreseeable right-wing victory at the upcoming July general elections.
The German interference boiled over last week when the German Parliament sent a delegation of nine lawmakers from the environmental committee to Spain to assess the sustainability of strawberry production, justifying that they have legitimate concerns about sustainability. As Santiago Abascal, leader of Spain's national conservative party VOX (ECR), rightly pointed out, this is an unacceptable case of "interference" and an "attack against Spanish sovereignty and the Spanish countryside". Abascal denounced "German green lobbies" for promoting this boycott and emphasised that it only benefits third countries like Morocco, which can produce strawberries and other agricultural products without similar checks and regulations. Apart from Morocco, this whole ordeal happens to coincide with the start of the German strawberry harvest season, probably no coincidence at all.
Naturally, these boycotts and negative campaigns of incessant attacks have sparked strong criticism and rejection from the conservative PP party opposition, the government of Andalucía, and agricultural producers. The sectorial professional association Interfresa has slammed the smear campaign as "insidious and harmful" for the industry and has rejected the accusations as "false", defending that Huelva's strawberries are produced in line with the "strictest international protocols in terms of responsible water management". Interfresa has urged "responsibility" from the authorities to "act prudently and for the sake of the general interest". Ultimately, the delegation of German legislators cancelled their 'visit' due to the social backlash it generated, and they recognised how inappropriate it was given the "political significance" of this topic in the context of the elections.
Nonetheless, what is most concerning is the explicit support that the Spanish Government has lent to the German attacks and boycott, to the detriment of its own producers. Apart from the aforementioned tweet from PM Sánchez, Ecological Transition Minister Ribera also tweeted an unacceptable statement that gave credence to this grotesque boycott, arguing that the irrigation law had to be withdrawn to prevent "alarm among German consumers". This vile campaign from the Spanish Government against its own producers should come as no surprise, because if something characterises the governing philosophy of Prime Minister Sánchez ('sanchismo' as it is branded in Spain), it's that he will sacrifice any productive sector, independent State institution, or even his own party colleagues, for the sake of his power. Furthermore, the incumbent socialist-communist Government has been extremely populist and hostile and towards the Spanish agro-food industry, especially when it could score political points in the process.
PP spokesperson Borja Semper has accused PM Sánchez of seeking to destroy Huelva's strawberry producing sector and indirectly supporting the German boycott, asserting that the "least he can do is to defend our farmers". Andalusian President Moreno has called Sánchez out for his "demagoguery" as well as the harmful effects of his smear campaign for the livelihood of Andalusian producers as far as exports are concerned. Moreno stated that Sánchez was putting the "bread of thousands of families" at risk. Similarly, Andalucía's regional Agriculture Minister has accused Sánchez of "seeking to politicise" the trip of the German delegation to use it as an "electoral weapon" based on "lies hurled against our agricultural producers".
Ultimately, this situation will not be stopped unless Spain elects a strong conservative government at the polls in July, one that defends the interests of Spanish producers above everything. Furthermore, at a European level, it is also essential to give voice to agricultural interests, which at the moment is only represented by conservative parties who don't buy into trendy green ideological dogmas. Political elites in Brussels like to speak about strategic autonomy and food sovereignty, but what they fail to take into account is that those sensible objectives require policies that foster domestic agricultural production, rather than subjecting producers to populist attacks and regulatory red tape as is the case in Spain.