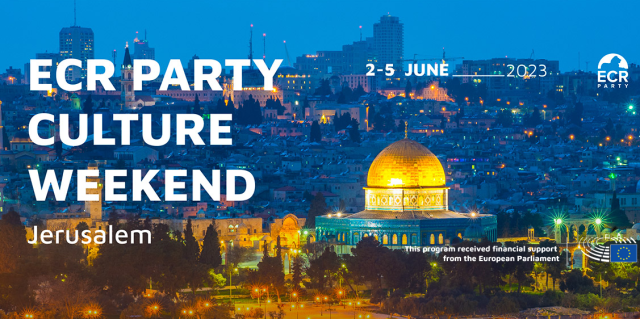 This June the ECR party will celebrate its third Culture Weekend, a complete experience of discovery, learning and networking in sights of historical and cultural significance for conservatives in Europe and abroad. This year, however, we will pivot toward the Mediterranean and away from the borders of Europe to a place that has nevertheless been crucial in framing the values of individual liberty, family, and democracy we defend. From June 2 to 5, The timeless city of Jerusalem in Israel will play host to this third edition of the ECR Party Culture Weekend.
Attendees will focus their conversations on key issues pertaining to agricultural policy and food management within and outside the European Union (EU). The theme for this year is "Conservative, Audacious and Pragmatic Solutions to Sustainability and Agricultural Challenges". Israel has been at the forefronts of sustainability, water management strategies, and high-tech farming. When the world is facing unprecedented food crisis, Europe must step up and ensure its self-sufficiency while creating jobs, and leveraging the opportunities that lie behind global warming. Israel is and must continue to be an important ally to Europe in this endeavor.
Beyond the thematic panels and conferences, this European Culture Weekend will allow participants to explore one of the most sacred cities in the world, and the cradle for the Judeo-Christian tradition that has forged our civilizational values for millennia. We will gather at the crossroads of the world's three largest monotheistic religions: Christianity, Judaism, and Islam. The attendees will be part of guided tours of historical landmarks and a wide variety of cultural activities we will be revealing in the upcoming days.
Giorgia Meloni, prime minister of Italy and leader of ECR-affiliated Fratelli d'Italia will headline the event. She will be joined by the secretary general of the ECR and fellow Italian, Antonio Giordano; MEP Jorge Buxadé, vice president of ECR and member of Vox (Spain); and Polish MP Radoslaw Fogel of the Law and Justice party.
The European Culture Weekend, now in its third year, is the best space for European conservatives to gather, exchange ideas, strengthen bonds with likeminded citizens, and find creative solutions to the issues we face. Agriculture and water management will be the defining challenges of this century, as humanity faces unprecedented threats to its food security due to global warming, and now war too.
In Jerusalem, we will star to turn the page, constructively, with common sense solutions. We will rediscover our values, celebrate European diversity and the history and traditions that have made ours the greatest and freest civilization in human history.
Do not miss this opportunity. Register here today!