Essays
- December 21, 2022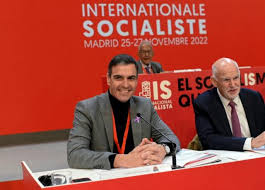 Socialist and Christian-democratic governments in Spain over the past decades have created a rather explosive situation in their public administration.  More than 40% of staff are not permanent civil servants, but workers with a temporary contract that is renewed over and over again, often for a period of many years.
This shows a complete lack of planification of human resources not just in local, regional and central authorities, but also in sectors paid by taxpayers as important as public health, education or the police constabulary.
This irregular snowball trend has been denounced many times.  Almost one year ago, Mr. Juan Alvarez-Perrino filed a petition at the European Parliament, where he requested that candidates who had passed competitive teaching examinations in Spain's public education system, and who had not able to access a permanent post at that time because fewer posts were offered than there were temporary members of staff, should be prioritised for posts in the consolidation process that has been launched to decrease the level of teachers with a temporary contract.
He further called for the rights of temporary teachers to be effectively equal to those of permanent employees, including the right to retire at 60.
The claim was received by the Parliament's committee on petitions on 27 January 2022, and further admitted as a valid petition on 21 April 2022.
On 6 September 2022, the European Commission delivered an opinion on the matter, supposedly to later help MEPs take a decision in the parliamentary committee on petitions.
The first point stressed by the EU institution presided over by Mrs. Von der Leyen is that, according to the petitioner, experienced teachers should be given preference, together with those that might have previously passed objective selection procedures.  But the Commission does not explicitly endorse either argument made by the petitioner.
Instead, it reminds having no competence to intervene in public staffing procedures, as they should be fully managed by national bodies.  Such answer sounds rather disappointing, since regardless of the competence belonging indeed to the Member State, there is clearly an interest at EU level to assure a good governmental practice and the sound management of public finances across our nations.  One could compare the well-known cases of Hungary or Poland, where Brussels bureaucrats are being much more intrusive, with that of Spain.  At least a certain guidance should be expected coming from the Commission's alleged technical expertise.
The only item where there is an express response regards the right to retire at 60.  However, the petitioner's claim is here dismissed, since Europe confirms that both civil servants and temporary public employees accrue a right to pension at that same age.
Three months after the issuance of the Commission opinion, the European Parliament has included the treatment of this petition in its committee agenda of 1 December 2022.  However, on the previous evening, the coordinators of the different political groups decided to close the issue based on the Commission response.
Once more, this entails a lost occasion on behalf of the two Union institutions to shed some light in the obscure management of public administration in Spain.
Source of the picture:  Yahoo news