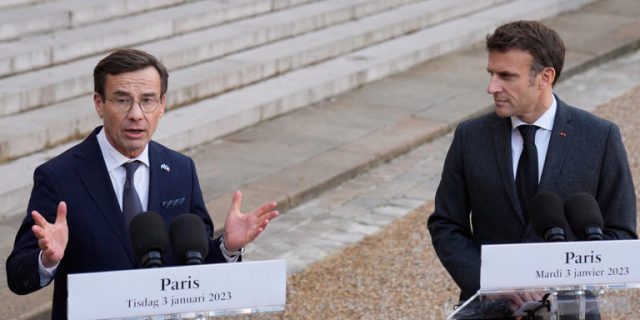 During his first week of the Swedish EU presidency, Prime Minister Ulf Kristersson visited France for a meeting with French President Emmanuel Macron. One to pic was the energy crisis and nuclear power as a solution.
The conversation with the French head of state was "great", according to the Swedish Prime minister. He describes the meeting with Macron as a "long lunch conversation". The talk was open, reasoning and clarifying the French positions.
The focus during the conversation in Paris was, among other things, issues that will be of most importance during Sweden's presidency, such as the economy with rising inflation and interest rates.
Much focus was also placed on the security situation for Europe and the ongoing Russian war of aggression against Ukraine, according to Kristersson.
– That will be the single biggest question under any circumstances. We talked a lot about the situation in Ukraine and continued unity, what Europe is doing, the Prime Minister told media.
He regards the French positions as increasingly important in the European cooperation since the British have left the Union.
Nuclear power in focus
Speaking ahead of a meeting with Emmanuel Macron, Kristersson said he wanted the two countries to have more extensive cooperation on nuclear power.
"The Swedish-French partnership has good potential in nuclear energy," Kristersson said in the courtyard of the Elysée Palace, alongside French President Emmanuel Macron.
This as a way to solve the energy supply in the north of Europe. Sweden, like Germany, has phased out much of its nuclear power over the past decade.
As the energy crisis has become increasingly serious and electricity prices have risen sharply, popular support for investing in nuclear power again has increased in Sweden. It has become necessary to create predictable electricity production, i.e. production with technology that can be planned regardless of the weather conditions.
"The new Swedish government is determined to build new nuclear power plants and we are very impressed by the French experience" in this area, Ulf Kristersson said.
One possibility is that Sweden and France set to join forces to build new nuclear power stations in the Nordic nation, to boost domestic power production and guarantee security of supply.
And Sweden could potentially acquire nuclear reactors from France, Ulf Kristersson was quoted as saying during his visit to Paris.
He stated that there are good opportunities to collaborate more closely on developed nuclear power. It could result in buying technology from each other, it could also be that the countries work with common standards, so that you reduce the cost of building new nuclear power plants.
But it is not possible to say outright whether Sweden will buy reactors from France, according to the Swedish Prime Minister.
– I just stated that we have such plans. Then everyone, both buyer and seller, understands that this requires extensive procurement, it's not exactly something you do over lunch, Ulf Kristersson added.